Solutions
With more than 15 years of experience, OptoFidelity designs and manufactures automated test systems for measuring optical and usability performance of smart tactical gear, AR/VR displays and other sensory systems used in aerospace and defense sector. We always achieve the highest possible accuracy and repeatability with our measurements, combined with human-like fitment and ease of use.
Our commercially available systems have been utilized by most major AR/VR and mobile electronics manufacturers, as well as U.S. Army CERDEC for evaluation and acceptance testing of AR tactical systems.
Tactical enhancements allow combat and special forces to observe and maneuver in all weather conditions, through obscurants, during limited visibility, and under all lighting conditions. Adding a targeting and weapon interconnectivity through AR information layering will further increase the individual performance and safety of a warrior, pilot or tank commander.

For Head Mounted Displays
Image quality, tracking accuracy, and repeatability are the core characteristics in AR user experience. Additional information rendered on AR display needs to have a high-quality real-world locking performance.
Other measurements and characterization examples are e.g. pilot's and soldier's visual stimulus (e.g. HUD, visor AR, gauges, and indicators) and other internal and external sensors that provide data for the users' "superhuman" senses.
Measured situational awareness is crucial for the soldier's advantage and survival in the combat, and this data can be provided real-time both by the tactical gear and vehicle but also e.g. other troops, fire support team, command, UAVs, and satellites.
Component and end-device level performance metrology for both R&D and manufacturing: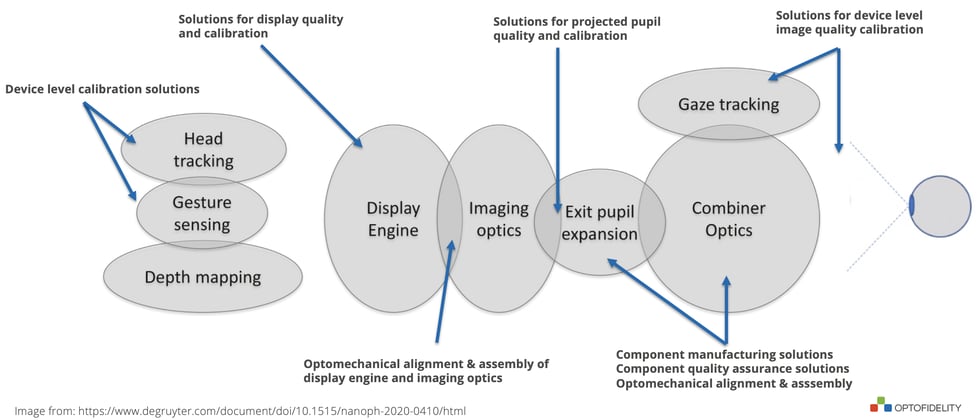 For Augmented Reality Head-Up Displays
A head-up display system aims to improve the safety by projecting ideally real-time information (navigation, warnings, point of interest, etc.) to the driver's field of vision. Hence, keeping the driver's focus on the road by reducing the eyes-off-the-road time and increasing the situational awareness. The conventional HUDs produce a 2D image with a fixed projection (static). However, an Augmented Reality (AR) HUD produces a 3D image (depth and curvature are added in addition to the flat image as in the conventional HUD) with a variable projection (dynamic). AR-HUD is a new technology, and as of 2021, it is only available in limited car models, but by 2026 it is expected to be used in 1 million cars. The main difference of the AR-HUD is its capability of overlaying the 3D image that includes various information and shows it as embedded in the real world.
There are different technologies to produce a head-up display. Such as LBS (Laser Beam Scanning), TFT (Thin Film Transistor), DLP (Digital Light Processor), 3D Computational Holography, Diffractive Waveguide, HOE (Holographic Optical Elements). In an ideal HUD, the Field of View (FOV) should be quite large and the system should continuously integrate information from surrounding and inside of the vehicle.
There are some known optical metrology challenges with AR-HUDs such as distortions, alignment performance of the projected 3D objects in real world in the eye-box, variable virtual image distance and many more.
OptoFidelity's testing platforms provide validation for optical characteristics, overall system functionality and performance of AR-HUDs. OptoFidelity's AR-HUD testing platform is fully customized to fulfill all kinds of test cases requirements.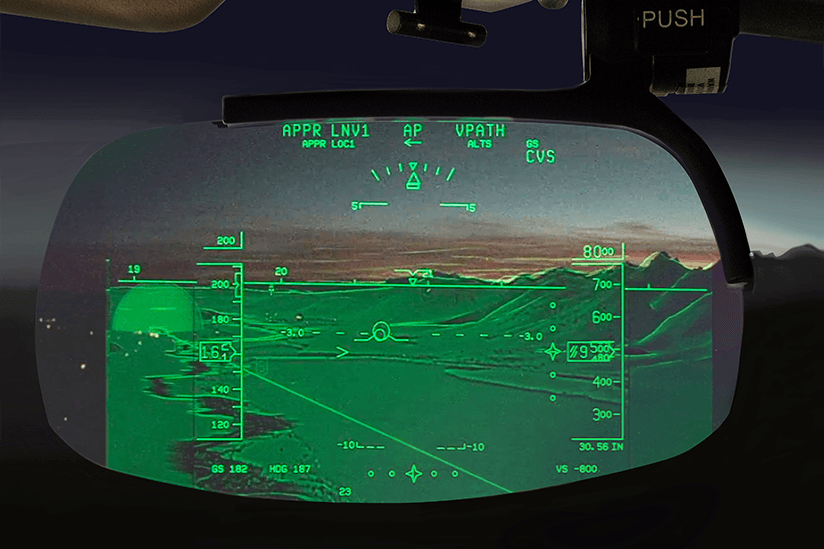 Images courtesy of Flight Safety Foundation
Auxiliary target acquisition AR test system
Auxiliary target acquisition systems deliver video and tactical data from the weapon to the view of the soldier or pilot. These system enables safer aiming without line of sight to the target and better reaction time with situational data.
By characterizing and testing the performance of auxiliary targeting systems with head-mounted display produces measurable parameters for visual performance. Quantifying both positive and negative consequences of parameters enable incremental improvement of the real-world performance of the system, further increasing the safety and performance of individual soldier.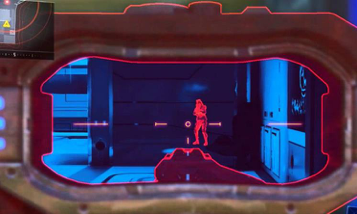 .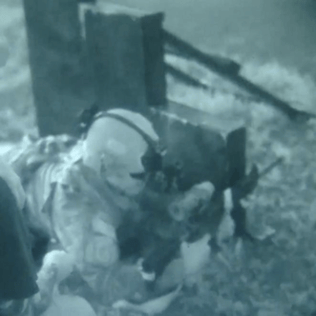 Images courtesy of US Army
The target of proposed systems is to enable collection of optical data from external targeting system and compare it with AR head-mounted display view. OptoFidelity RTA test system offers open interface for external programming and utilization, and serves highly accurate event, trigger and positional encoder data. This data can be utilized to measure spatial jitter, drifting, latency and alignment off-sets both independently and between RTA and HMD systems
OptoFidelity systems are accurate, modular, configurable and can be repurposed for variety of measurement tasks, providing a great tool for research with a long lifespan.

OptoFidelity custom RTA system
HMI and touch screen test systems
HMI and touch screen testing in vehicle infotainment system is a combination of various hardware and software which provides in-vehicle infographics, gauges, navigation, and various connectivity buses (USB, Bluetooth, WiFi, etc.). Nowadays, infotainment systems also include head-up displays, rear seat infographics, ADAS, V2X, rear view mirror, telematics (emergency assistance, concierge services, vehicle status, etc.), smartphone integration (Android Auto, CarPlay), and other sensors.
Image courtesy of Genesys Aerosystems
In-vehicle infotainment (IVI) system is controlled via the user interface which is interacted by touchscreen, but also by traditional knobs and buttons either on the dashboard or on the steering wheel. Some IVI systems can be also interacted by touch and haptic enabled smart surfaces, voice control or even gestures.
OptoFidelity's testing platforms assure that in-vehicle infotainment (IVI) system is user-friendly and safe to use. There are different ways to check the performance and functionality of an in-vehicle infotainment (IVI) system such as by testing the touchscreen, or testing the user interface's behavior with different scenarios. Another way of testing the performance and functionality of an in-vehicle infotainment (IVI) system is mimicking the way that drivers interact with it.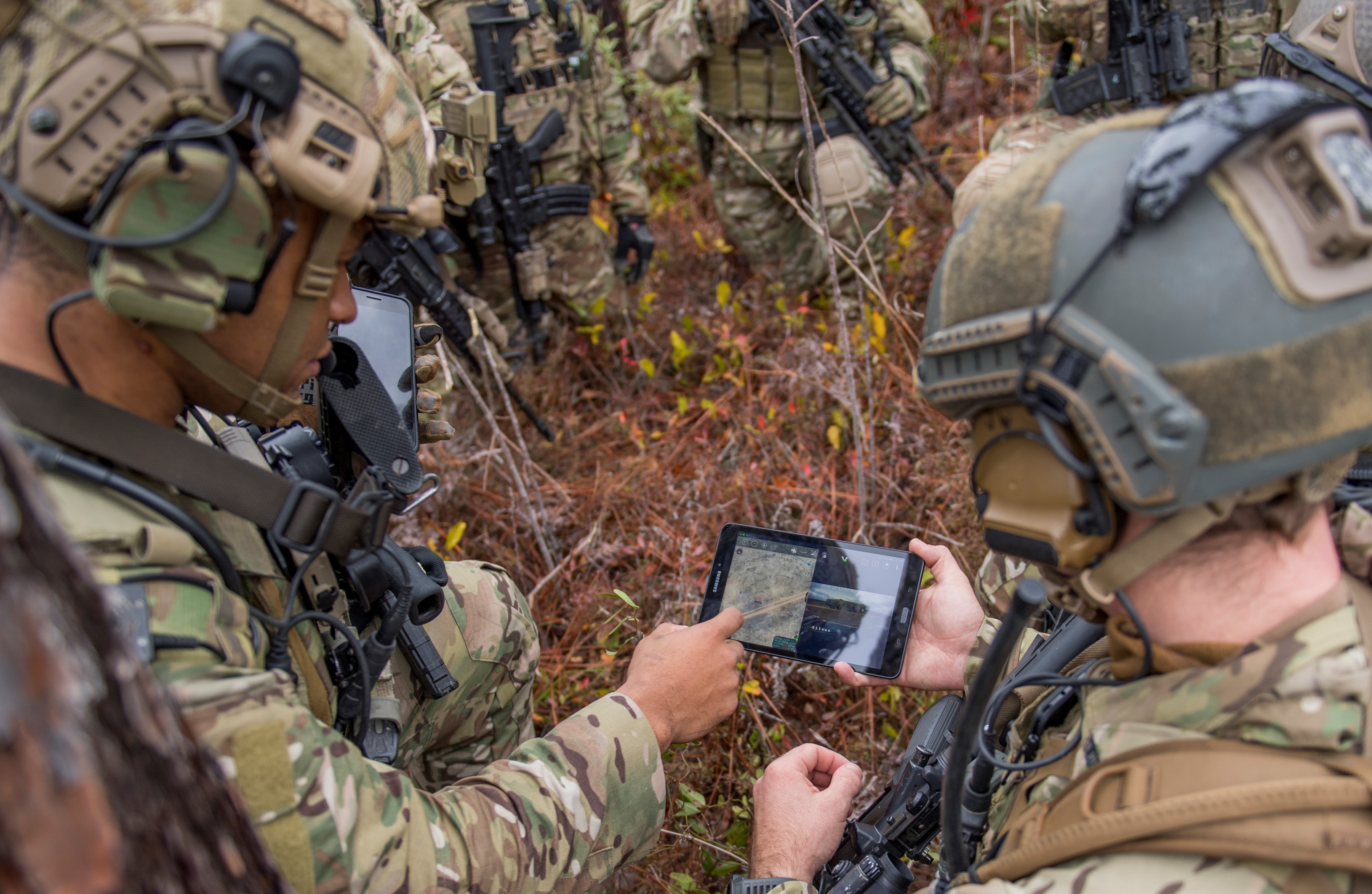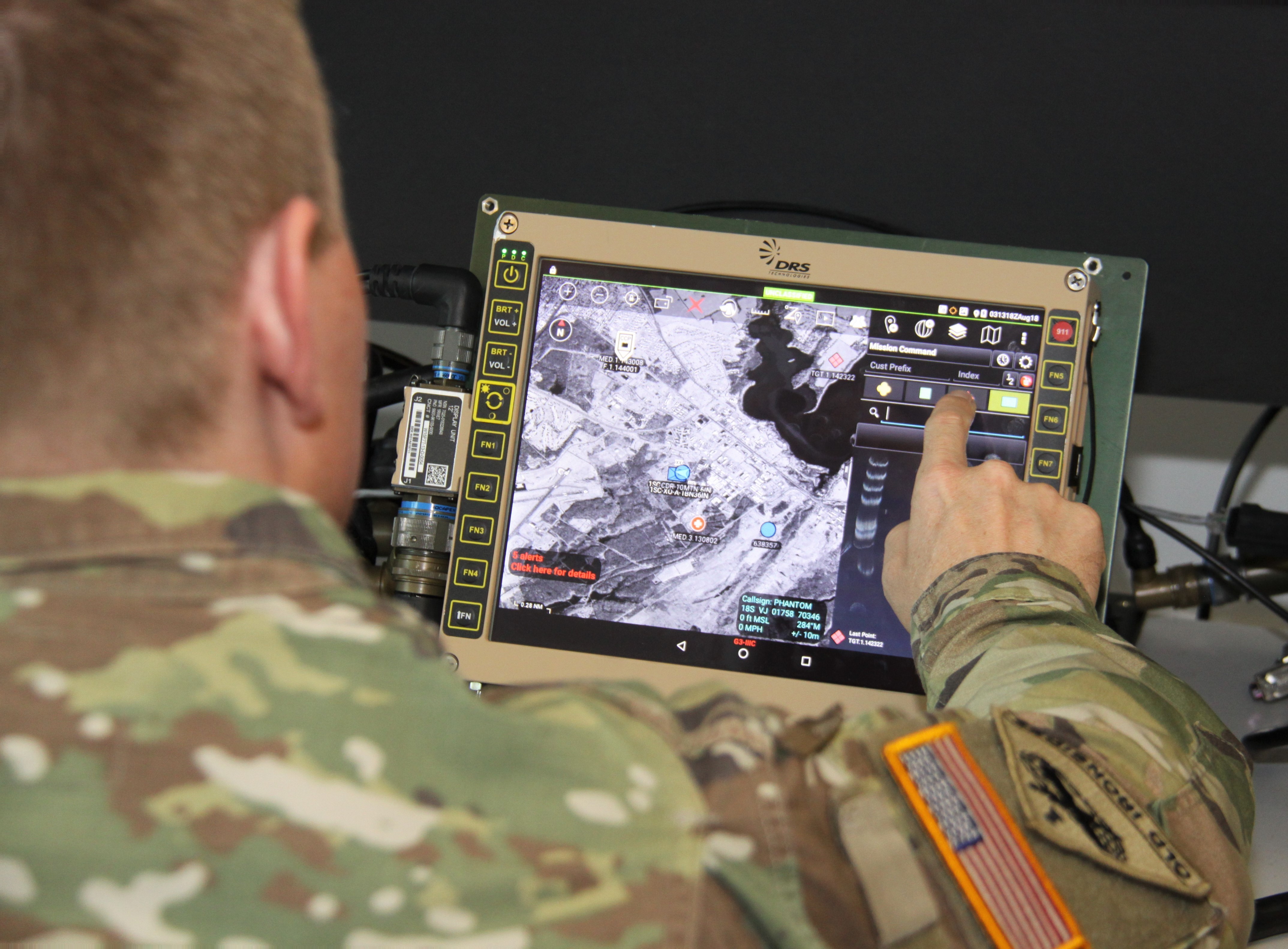 Images courtesy of US Army
OptoFidelity's infotainment testing solutions can be categorized as:
HW performance testing solutions are used

to

measure the performance (precision, accuracy, repeatability, latency etc.) of touchscreen's components (controller, sensor, etc.)

UI performance testing solutions are used

to

track visual changes in the IVI user interface such as latencies, scroll performance and pen-to-ink analyses

UI functional testing solutions are used

to detect icons or perform optical character recognition (OCR)

regardless of image

color, content and language

Display quality testing solutions are used

for QC (defect detection, etc.) and characterization (uniformity, MURA, color, etc.)



Display reliability and environmental endurance testing solutions that can also work in climate chamber environments. These testers are used to simulate the effects (change in gloss, tap performance, etc.) of temperature, humidity elevations or different stress loading scenarios (high repetitions, high loads, etc.) or different environmental scenarios (smudge, salt, sweat, acid, etc.) in displays in component, device, and system level