Industrial XR will be the breakthrough area, Finnish leaders say. A lot has happened in the AR&VR ecosystem in the last few months. Industry leaders from Finland's AR&VR ecosystem had a virtual roundtable discussion, and the key comments were collected for this article. The Finland AR&VR ecosystem includes leading global companies such as www.varjo.com, www.dispelix.com, www.optofidelity.com, www.leonidasoy.com, www.futuremark.com, www.immersal.com, and much more. An additional AR technology highlight is, that Microsoft has Hololens development activities in Finland. Finland is a true global focal point in AR&VR development.

OptoFidelity CTO Kimmo Jokinen, Kari Peltola, the Chairman of VR Finland and CEO of Leonidas, CMO Jussi Mäkinen from Varjo, CEO Jufo Peltomaa from Immersal and industry pioneer Steven LaValle from the University of Oulu all share a common view, namely that industrial XR solutions will make a breakthrough during 2019.

Varjo VR-1 – first human-eye resolution VR headset
Moderator:

Great to have this crew virtually present! So let´s get started with this virtual roundtable. Our topics include your analysis on the latest XR development and your own contributions there as well. It would be great to hear comments related to content, HW, testing and more. Please introduce your background as well. Let´s start with your personal intro and your remarks on the latest technology development.



Kimmo Jokinen, CTO, OptoFidelity Ltd.:

The measured system performance of AR/VR devices has jumped to an acceptable level – M2P latency is mature

"We have been working in the testing of smart devices for 15 years. We have seen technology maturity and consumer acceptance go hand in hand. During the last three years we have tested numerous AR and VR headsets with our testing technology. What we can see from the data is that maturity of the XR systems has really improved from the point of view of performance and user perception."
"As an example, one of the most important UX-related features is the so-called Motion to Photon (M2P) latency. If the latency is more than 10 ms, the user experience will suffer. In fact, for see-through AR, the latency should be almost zero milliseconds. As we can see from the new AR/VR devices coming to the market, the majority of them are already very good in this. The critical improvement was the introduction of motion prediction algorithms. Although there are still areas that need improvement in motion prediction, it has already made an impact."

Kari Peltola, CEO of Leonidas Ltd. and Chairman of Virtual Reality Finland:

Commercial industrial applications on the way

"Industrial XR applications make a lot of sense, and the price point for industrial use cases is acceptable," Mr. Kari Peltola, the CEO of the industrial XR-focused company Leonidas and Chairman of Virtual Reality Finland, an association for Finnish AR & VR companies, comments. "We predict that the industrial usage and rollout of true, operational XR solutions will start during 2019."

Jufo Peltomaa, CEO of Immersal Ltd.:

Content is the key enabler for a breakthrough, and it's coming!

To make the real AR revolution happen, you really need the content to be present everywhere and tied to real-life coordinates. So AR in momentary, random ad hoc spots isn't enough, you also need cross-platform, persistent and multi-user content. If you leave an AR space ship on a rooftop, it should be there visible to everyone (who so desires) – and still be there next year when you come back with a different AR device. We are far from that goal, as we lack the global, permanent AR infrastructure. But worry not; Immersal AR Cloud SDK will begin to form it in 2019.

Jussi Mäkinen, Chief Marketing Officer, Varjo Technologies Inc.

New generation VR has started. Human-eye resolution VR product is on the market!

Varjo VR-1 was launched on Feb 19th, this week. With the launch of VR-1, the world's first and only human-eye resolution VR product, Varjo is starting the era of professional virtual reality. Our vision is to seamlessly merge the virtual with the real.

Steven M. LaValle, industry pioneer, Professor, University of Oulu

Making a real breakthrough in XR requires customer acceptance.

"In January 2019, the University of Oulu founded the Perception Engineering Lab, where the focus is on understanding the human perception-based performance criteria of particular XR use cases. The research takes into account human physiology and perceptual psychology, with the understanding that XR technology is engineering a perceptual illusion (much like optical illusions). We need to determine how to make effective and immersive experiences while minimizing adverse side effects such as nausea and fatigue. One long-term goal is to eventually produce a generation of uniquely skilled 'perception engineers,' whose skills impact all stages of XR system design from hardware and software to content."
---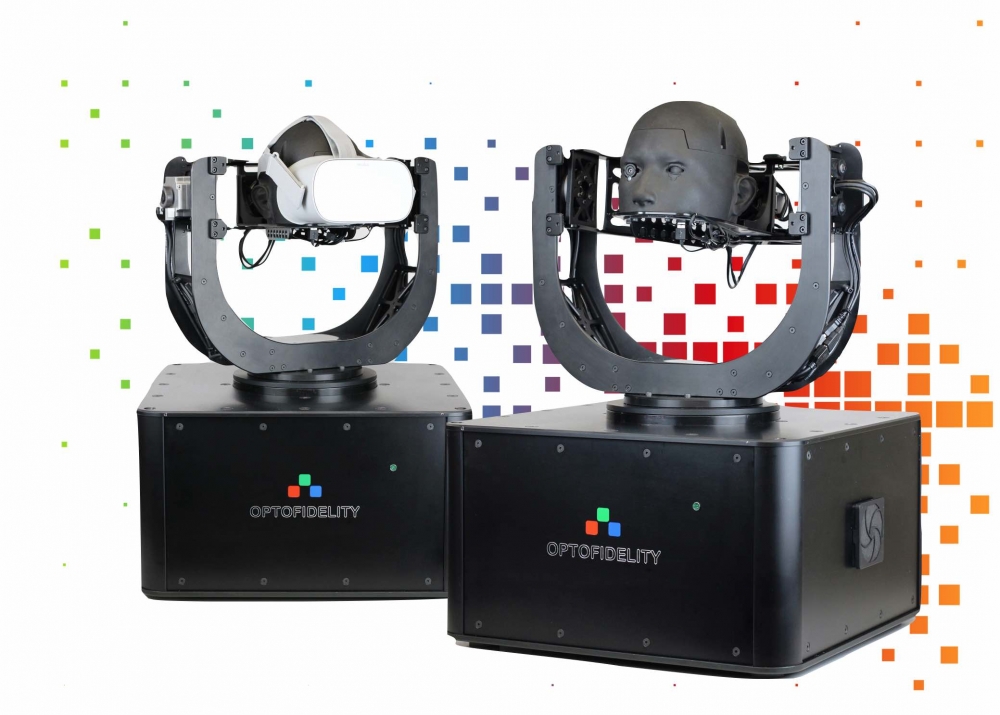 OptoFidelity™ BUDDY-3 testing solution
Moderator:

Okay, thank you, everyone. What about near-future expectations, how do you see 2019? Will there be a breakthrough in consumer XR, or something else? What about business and industrial XR applications?

Kari Peltola, Leonidas & VR Finland
The advantages for industrial XR applications are clear and, at this point, already backed by data – faster product development, decreased logistical costs and increased information retention, to mention but a few. Data shows that the opportunity for improvement is enormous. For example, companies are experiencing 25-50% improvements in complex assembly productivity, and even a tenfold improvement in product development speed. We're currently seeing major leaps in hardware, development tools, content management tools and integrations to cloud and ERP systems that are required to fully take advantage of this technology.
"Because of XR hardware and software ecosystem development, the barrier to adopt this technology has lowered considerably during the last two years. Data from the field suggests that AR and VR can deliver massive improvements in product development, maintenance, training and sales.
Currently, we're witnessing a rapid ramp-up of implementation activities from industrial companies. Thus, we're predicting that 2019 will be a breakthrough year for industrial XR."
Jufo Peltomaa, Immersal
I expect 2019 to be the beginning of AR Cloud, i.e., creating a global AR infrastructure for the whole planet. While we will probably not yet have ubiquitous AR Cloud, it will begin to form. First with phones and tablets, maybe even with some AR glasses toward the end of the year – although I'm a bit sceptical when it comes to fast market penetration of the glasses.
Kimmo Jokinen, OptoFidelity
"AR/VR devices is an integrated system which has time-critical interdependencies. OptoFidelity competence lies in testing solutions providing the metrics for the AR/VR key user experience factors. It can be seen that many companies have learned the necessity to continuously validate any changes in the tightly knit AR/VR implementations.
Now it can be seen that most of the VR devices are beginning to have sufficient user experience for wider use, even with VR content applications causing a high load for the CPU."
2019 shall also be a remarkable year for see-through AR. I foresee a leap that will combine the best features from the existing Vuzix Blade and Nreal. Future generations of see-through AR will have 5G/6G empowered AR Cloud / spatial edge computing, better battery lifetime, improved spatial accuracy and way higher display resolution than what we have seen so far. And of course, the ability to utilize the headset outdoors.
Anyway, what we expect to see before significant breakthrough in AR is improvement in the markerless inside-out tracking, for indoors and outdoors.
Steve LaValle, University of Oulu
"Full-blown consumer XR is not taking off at the pace projected a few years ago, mainly due to the devices remaining unwieldy and the lack of compelling content. Rather than taking a top-down approach of launching products to consumers, we expect that 2019 will be a year of growth for the bottom-up approach.
In many vertical business markets, such as health care, virtual prototyping, architecture and industrial training, there is a growing demand to more effectively convey 3D information. We expect that XR device companies in Finland, such as Varjo and RealMax, will expand to fill this need. Their products surpass the quality of consumer-grade devices, which is needed to address these emerging markets."
Jussi Mäkinen, Varjo Technologies
We believe that 2019 will be a pivotal year where XR becomes a true professional tool, and Varjo and other Finnish XR companies are at the forefront of that change. We are already collaborating with many of the finest startups from Finland, like Osgenic and their incredibly life-like surgery training, as well as Zoan, which has virtualized the entire city of Helsinki with unmatched detail.
Later this year we'll introduce Varjo's XR add-on module for our VR-1 headset that will redefine mixed reality as we know it, making it truly useful for industrial applications for the first time.
---
Moderator:
To me it seems, based on this discussion, that we mutually agree that the B2B business is starting and emerging rapidly during 2019 as vertical industrial XR. The need is there, HW is available and content is on the way. Although there are not yet that many devices on the market, we see new HW popping up on a weekly basis. It will be interesting to see what the feedback for Hololens is going to be after the next version is available.
Regarding the consumers, there also appears to be mutual agreement: price point, content and HW still need more improvement before the major consumer breakthrough can occur.
Thank you all for your participation, I have to admit that this was really educational for me. I have been following the market and technology development for quite a while, but being a moderator here has really opened my eyes.
I would especially like to thank you all for your openness for such an initiative. I would suggest that we hold more of these kinds of Finland XR ecosystem talks in the future.
Steve, University of Oulu
"Finland is uniquely positioned to make groundbreaking contributions to XR because of its world-class experts in key areas, including displays and photonics, sensors, interaction, wireless technology, and 3D environments and graphics. Being a small country with a cooperative atmosphere, it is easy to form alliances to tackle the challenges that require a high degree of integration across different disciplines."
Kari, VR Finland
Thanks as well from my side. I would be delighted to host such talks on behalf of Virtual Reality Finland.
Editorial
In conclusion, there are interesting times ahead in the next two or three years. They are betting on industrial XR. You should listen what the companies and experts from Finland said. These guys are really at the forefront of the industry, working with research, HW, HW testing, AR Cloud and application.

If you are interested in participating in real-life discussions, please visit www.vrfinland.fi and join our industry meetings, or drop by at Finland Pavilion @MWC19, hall 5 C41, where OptoFidelity and Varjo are present and willing to talk more about these topics.
Background information about the contributors
Steven:
Kimmo:
www.optofidelity.com XR testing solutions
Jussi:
Jufo:
Kari:
Other references
Interesting reads & links we recommend