Labor savings and quality improvements are the most considered benefits of automation when planning an automation project in refurbishment industry.
However, there are other benefits that should also be considered when evaluating investment decision for automating refurbishment of smart phones. These additional benefits are:
faster capacity scaling
more predictable capacity uptime
easier process deployment to new locations and facilities
quicker adaptation to changes in evaluation criteria
easier and more comprehensive capture of test data for process optimization
Often times, only labor savings is used as an attribute to calculate ROI of the planned automation implementation project. This leads to a risk of a lost opportunity as not the entire generated business value is accounted for in the ROI calculations. ROI is calculated with numbers from partial benefits which can make the automation project less attractive and not being pursued.
The additional benefits mentioned above can be hard to calculate and may not be applicable for all automation projects. However, benefits of quality improvement should definitely be factored in when evaluating investment in automation. The business value of quality improvements can be calculated using methods defined for Cost of Quality and Cost of Poor Quality.
At OptoFidelity, we provide a selection of robotic solutions for automating refurbishment of smartphones. For example, OptoFidelity FUSION provides a full functional evaluation of the smartphone, and OptoFidelity SCORE provides AI-based cosmetic inspection and grading.
Smartphone refurbishment processing has two major challenges when compared to a manufacturing process:
Firstly, refurbishment process must be able to adapt to multiple smartphone models, versions and even manufacturers.

Secondly, the condition of incoming material for refurbishment has massive variation compared to manufacturing.
These factors further increase the importance of being able to accurately and consistently evaluate the condition of the smartphone in the refurbishment process.
We have provided consulting for our clients in calculating the business value of automating manufacturing and refurbishment processes.
In calculating the business value for smartphone refurbishment, we were able to show that factoring in the quality improvement in automating the condition assessment, refurbishment process can generate over 10% more profit per phone over manual testing, see figure below. The labor cost savings by using test automation are still to be added on top of that.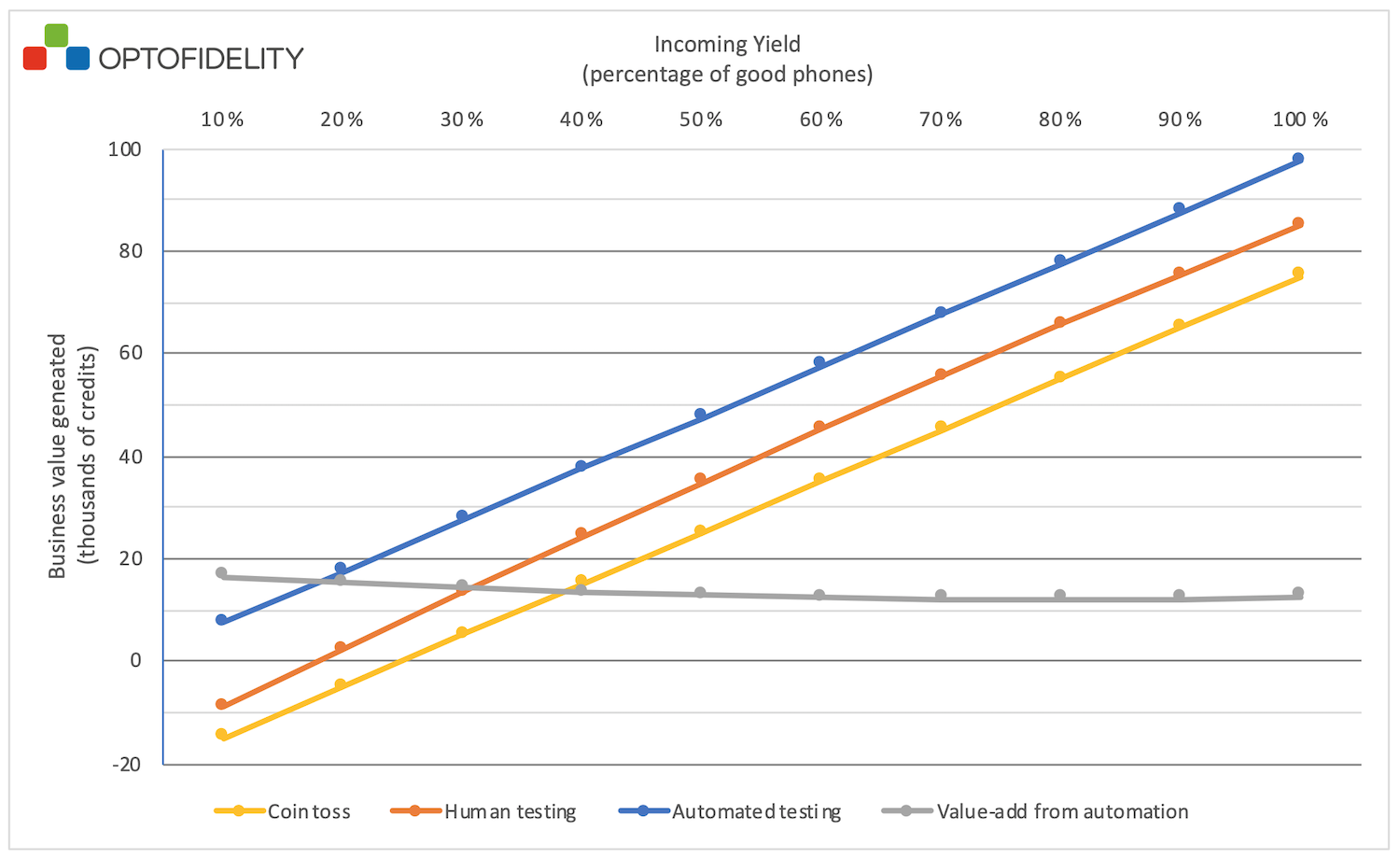 When doing automation ROI calculations, as a rule of thumb, we recommend to factor in 10% more profit per phone as the value generated by improved quality of automated condition assessment.
If you are interested to learn more about the complete ROI that automation will bring to your refurbishment process, please contact the author of this blog post, Mr. Hans Kuosmanen, directly.