OptoFidelity™ GoldenEye Display Test Solution and sample data
OptoFidelity GoldenEye is an automated display test system that is scalable and capable of producing reliable and consistent display quality data. It is capable of testing MURA / MURA detection, uniformity but as well particles within display stack and display surface dust detection. The OptoFidelity™ GoldenEyE software is used with different camera and hardware setups and integrated to RD and factory testing environments. You can read more details about the solution from OptoFidelity™ GoldenEye solution page.

Sample data in the end of this article: includes MURA detection, luminancy uniformity and dust detection samples
Challenges in display inspection on a production line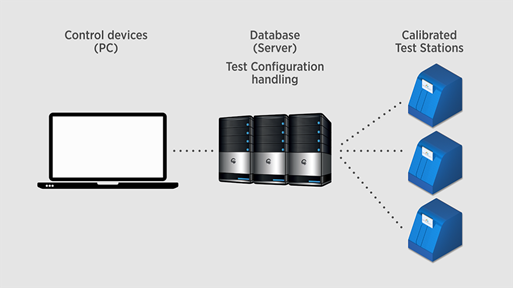 Distributed architecture for factory delivery

In the society of 2018, display devices are everywhere: phones, tablets, TVs, smartwatches, cars, ATMs, elevators, etc. According to sources*, the annual volume of small and medium (≤ 9") displays is steady at 3 billion pieces, and the quality output of production lines in module and device factories requires high-precision and consistent display inspection solutions. Currently, most of the production lines utilize the operator inspection model, where individual operator performances have variations and inspection accuracy cannot be guaranteed. In addition, as production lines are being automated to improve throughput and quality control, display optical quality inspection can no longer be left to human operators.

When considering the details of display inspection, there are challenges involved in controlling the ambient lighting environment, viewing distance, impact of pixel size variations between products, dust and particles on top of the display surface, and excessive operator handling that itself is a risk for panel breakage. Display inspection also involves lighting on the display and checking optical qualities such as luminance uniformity and color performance. Other Interesting functional defects include missing lines, light leakage, particles within the display stack and flickering. These light-on inspection steps often require a specific test setup, and the inspections are usually very time-consuming.
Experiences from operation environments and bring up

Display testing solution: Background from a customer delivery

We have delivered OptoFidelity ™ GoldenEye display test solution for various types of environments in the smart devices industry.

The OptoFidelity ™ GoldenEye display test solution is used in a lab environment for RD purposes, and mass production lines for high-volume production quality assurance. In a lab environment, the GoldenEye display inspection tool can be used to check the display quality of small sample batches and receive timely data of display quality. The setup is simple:
A needed amount of industrial machine vision cameras designed in an arrangement that fits the size of target displays
A PC to run the GoldenEye software, provided by OptoFidelity, with pre-tested functionality and stability
The connectivity modules depending on the DUT setup: either a customer-specific design or utilizing WiFi connectivity
An ambient controlled environment, such as a darkened tester chamber or a space veiled with dark cloth
Typically we include hands-on training for customers to help them start using the SW and introduce the DUTs to the system. In a lab environment it will also be easy to fine-tune the setup and adjust it appropriately with changing needs.
In a production environment, the GoldenEye display testing solution is packaged into an automated or semiautomated, stand-alone tester or inline system according to customer requirement. The HW setup will be carefully designed to meet customer requirements and allow high-quality performance of the tool. Fine-tuning will be performed by OptoFidelity, and on-site support with hands-on instructions is an integral part of customer service. OptoFidelity is committed to working closely with customers to bring the testers to the factory floor or clean room environment.

As an example, the OptoFidelity team has helped a customer in the process of fine-tuning inspection criteria and defect analysis parameters based on operator judgement results. By aligning the tester output with the traditional operator output, the GoldenEye display test solution can avoid excessive false positive results. The fine-tuning of defect analysis parameters can also be done by the customer, as tuning can be performed simply with existing data without the need for re-measurement. Another example is the usage of the GoldenEye display inspection tool sensitivity map feature. When a customer display product had darker edges as an inherent optical defect, the sensitivity map was used to ignore these areas. It was easy to implement as well as an effective solution to treat every display panel equally. The beautiful thing was that the sensitivity map did not just mask away those areas; it actually has a thresholding feature: Only the defects exceeding a pre-defined threshold will be reported.
Display test solution: Sample data from measurements

Figure 1: MURA detection and dot defects

Figure 2: Darker edges and a brighter area at right bottom are detected as MURA

Figure 3: Luminance uniformity can Be calculated based on a number of measurement points



Figure 4: Dust detection result – red areas are detected dust particles
If you are interested to hear, how we apply test robotics with display testing in order to measure curved displays, please have a look on our OptoFidelity™ GoldenMovtest robotics platform website or from youtube .