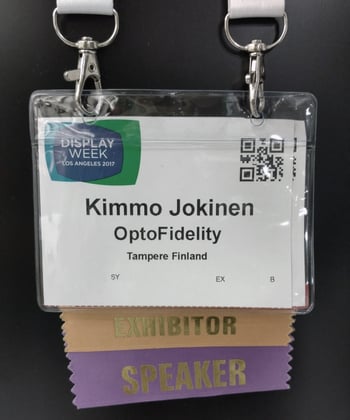 I had the opportunity to be an invited speaker at the SID Display Week symposium in Los Angeles. Display Week is one of the largest venues of the display industry, gathering more than 400 speakers/authors and 6,000+ professional visitors together for a whole week.
In my presentation, which dealt with novel ways to measure VR performance factors, I first gave a short update on Virtual and Mixed Reality business. All of the tech giants, such as Microsoft, Facebook/Oculus, Google and Apple, have recognized the importance of this new technology area. Smartphones, in the form factor like Apple's first iPhone, have now been around for 10 years. That is the usual window of time for a technology to reach sufficient maturity. It is also noticeable that after ten years, mobile apps developers probably want to have something new to work on with.
The first technical part of my presentation dealt with the basics of OptoFidelity's way of measuring VR Performance and VR Presence Factors. Our artificial VR test head "Buddy" has become a recognizable character within the various teams of companies, working with VR and MR technology areas. Combined with VR Multimeter, it offers unbeatable simplicity and performance. You can meet Buddy for example in this video.
The main topic of the presentation was about the novel way to make the assessment for display blurring. Typically an issue for LCDs but also for OLED to some extent, blurring is one of the important performance factors for VR. With the OptoFidelity way, display and device developers can very quickly and easily test the display blur and get the perceptual score.
Display blur is an issue in VR because content is typically very dynamic, e.g., in games. Blur can be perceived in displays due to slow response times or badly synchronized backlight. High persistence values can additionally cause so-called retinal blur. The OptoFidelity way of assessing the blur is the utilization of the video industry standard metric, the SSIM (structural similarity index), which provides normalized quality factor from 0 to 1.
After the presentation, I had the opportunity to discuss with many display professionals and exchange ideas about display measurement technology. It was very nice to hear from many professionals that our novel ways of measuring display performance factors is very welcomed by the display industry. All too often, temporal measurements are disregarded in favor of pure optical quality measurements.
I can't wait for next year's Display Week, again in Los Angeles! I am pretty sure that we will witness some cool VR / MR technology launches before the end of 2017. My guess is that the hot topics for 2018 will be related to eyewear and automotive. Wouldn't it be great to have your personal head-up display, projected to your favorite sunglasses? What the VR ecosystem really needs is wearable display technology that could be used in everyday life, both indoors and outdoors.