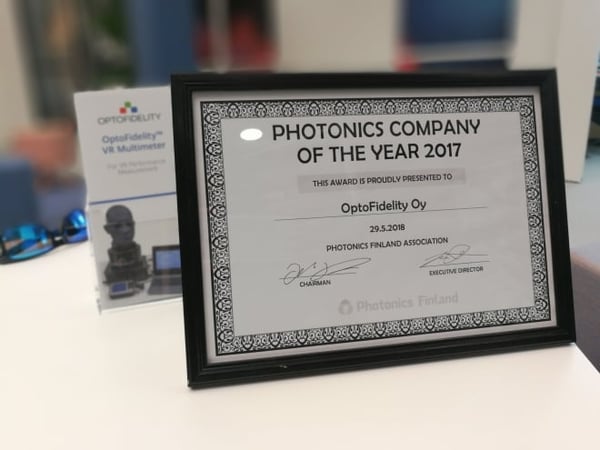 OptoFidelity was nominated by Photonics Finland as the Photonics Company of The Year. We are very pleased and proud of this nomination. We took the opportunity seriously and had a little celebration at our office the other day. While having a glass of sparkling wine with our team, we also discussed some recent experiences with photonics and its relation to testing. We have been investing in the photonics industry for years. And a few truly interesting cases were brought up by the team. "How do testing and photonics, and specifically test robotics and photonics, fit together?" you might ask.
According to Wikipedia, "photonics is the physical science of light (photon) generation, detection, and manipulation through emission, transmission, modulation, signal processing, switching, amplification, and detection/sensing. Though covering all light's technical applications over the whole spectrum, most photonic applications are in the range of visible and near-infrared light." With photonics technology, combined with the most accurate motion control, you can achieve miracles.
With today´s smart devices, the trend is toward fitting more technology into a small space. This means that measuring an event or a feature must be more accurate. For example, when developing a see-through HMD, our customer might want to apply optical waveguides and diffractive optics in the HMD design. Designing a test solution that creates value for the customer includes the integration of many technology areas, ranging from light source design, sensor and optics design and high-accuracy closed loop motion control. Our value for our customer lies in our understanding of the testing need and our capability to implement testing solutions with the newest innovations from photonics and other high-tech areas.
We will publish some more materials related to different test solutions in the photonics industry. In case you are interested to read more, stay tuned. For that matter, have a look at our robot platforms and solutions from the R&D Test solutions page, if you are interested to see what type of robotics and motion control we are using in our test solutions.