After I have been chewing over the SLUSH experience for couple of days, I can align that the leading start-up event in Europe was an overall positive experience for a first-timer. The event is not only about matchmaking for start-ups and financiers, but it has become "the event" for high tech companies in particular, where you can find first-rate presentations, discussion and networking opportunities all in one. Maybe it's because the event is intended for start-ups, but the entire SLUSH population is open and ready to listen to what others have to offer. Everyone is a potential partner for your business, one way or another. This open willingness to communicate makes the event stand out among ordinary trade fairs.
I had heard such praise of the visual execution of the event that my hopes were very high. And for good reason. The visuals and the entire sensory experience of SLUSH is hard to describe – it must be experienced first hand.
My goal was to take in the atmosphere in terms of technology, as well as discover and focus on popular themes. The following themes stirred my imagination the most:
IoT
Robots
AI (artificial / augmented intelligence)
Data analytics / deep learning
VR/AR
HealthIT
I estimated that roughly every other booth had a demo on VR or AR of some kind on display. Many of the presentations on the main stages dealt with VR or AR. The following two presentations caught my attention in particular:
Inside VR and bots

/

Helen Situ, Virtual Reality Evangelist at NextVR
Helen said that her biggest dream in the world of VR is that, technology permitting, people around the world could visit new places virtually and experience and sense the surroundings, noises and so on as authentically as possible. An added bonus would be the ability to share the experience with friends, in real time. This would make the experience more like MR, merged reality.
Diving deep into the virtual reality

/

VR at Google / Greg Ivanov, Head of Daydream Business Development
In his presentation, Greg emphasized the importance of content. Content is king. He stressed that compared to the previous VR projects (cardboard and earlier versions) the media companies mean business now. On any competition with Facebook, he said that it is in the best interest of VR/AR technology in general that the content be compatible with different systems and easy to produce, which is currently somewhat difficult.
I had a chance to ask Greg Ivanov a question and I wanted to know this: How was Google going to ensure that the users would not feel nauseous using VR applications? Greg said that the most significant factor was going to be ensuring the equipment's performance and functionality. It is very important to be able to measure the overall performance, including the application. The performance of hardware is a good starting point, but only half the truth. Bingo! That was exactly the answer I was hoping for.
Otherwise memorable presentations (for better or worse):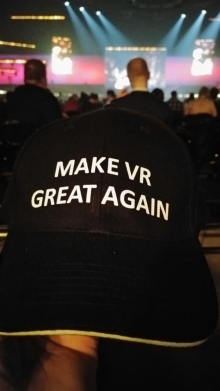 Steve Jurvetson & the big think.

Read more

about Jurvetson.
Moore's law 120 years. Inspiring thoughts on how humanity innovates, keeps building better things, and does not need Gordon Moore and Intel, but the best tools available will result in better tools available. We will always keep making state-of-the-art in any specific time. Currently, the best processors are Nvidia graphic processors that are surprisingly well-suited to solving matrices needed for deep learning. ASICs imitating the brain are on their way (and some already exist).
Will IoT be the path to decode the universe?

/ Ludovic Le Moan, co-founder, Sigfox
Never been as lost, as after this presentation. It started with quite ordinary IoT jargon with low energy consumption requirements, sucking the needed energy from the surroundings. But then the talk turned to the DNA of all living things, and how some biometrics-reader-gadget could decode signals on a molecular level, forming some sort of "tomato speaks to you" stuff… How weird…
My own passions in terms of technological development have for a long time been connected with the opportunities and challenges presented by the world of VR/AR. It was very satisfying to find people sharing the same passions at SLUSH, a tribe that both validated my own thinking and presented new viewpoints and boosted me. We are sure to make VR great!
I was carrying a special hat, "Make VR great again." It made everyone smile, and one lucky person even received their own unique hat.. I think someone asked why it said "again." It may refer to Steve Jurvetson's presentation "Moore's law 120 years" and the state-of-the-art of each time. E.g., View-Master was state-of-the-art at one time, the best VR available. Now, VR is making a true comeback "again" in many forms. Any other interpretation of the sentence is left to the viewer.