Each year we seek enthusiastic, bold and open-minded Trainees to join our troops. This summer was no different and we were excited to have overall six new OptoFidelitians. We promised that these Trainees will have a summer with cool robots, awesome colleagues and unique projects – how well did we succeed with this promise? Let's find out from the authors themselves: Sini, Joonas, Olli-Pekka, Ismo and Juho!

Sini and Joonas, you worked as Software Trainees, what did you get to do here?

Sini: During the summer I got to do a lot of work directly related to my education and interests. This was the most important thing for me, since as someone mostly focused on users, UX and UI design back-end coding is not inspiring to me. I was surprised how much people here were eager to hear my opinions and how much those really affected the outcome of the projects.

I designed and made prototypes of a few user interfaces and got to develop one from start to finish. In the university I hadn't learned a lot about UI programming and the experience from here is patching up important holes in my know-how.

What really made the summer enjoyable here was my project team. The average age of the team was probably somewhere in the mid to late twenties, which helped us connect and have fun too on the side of work. I look forward to continuing as a part-timer when I start my studies again!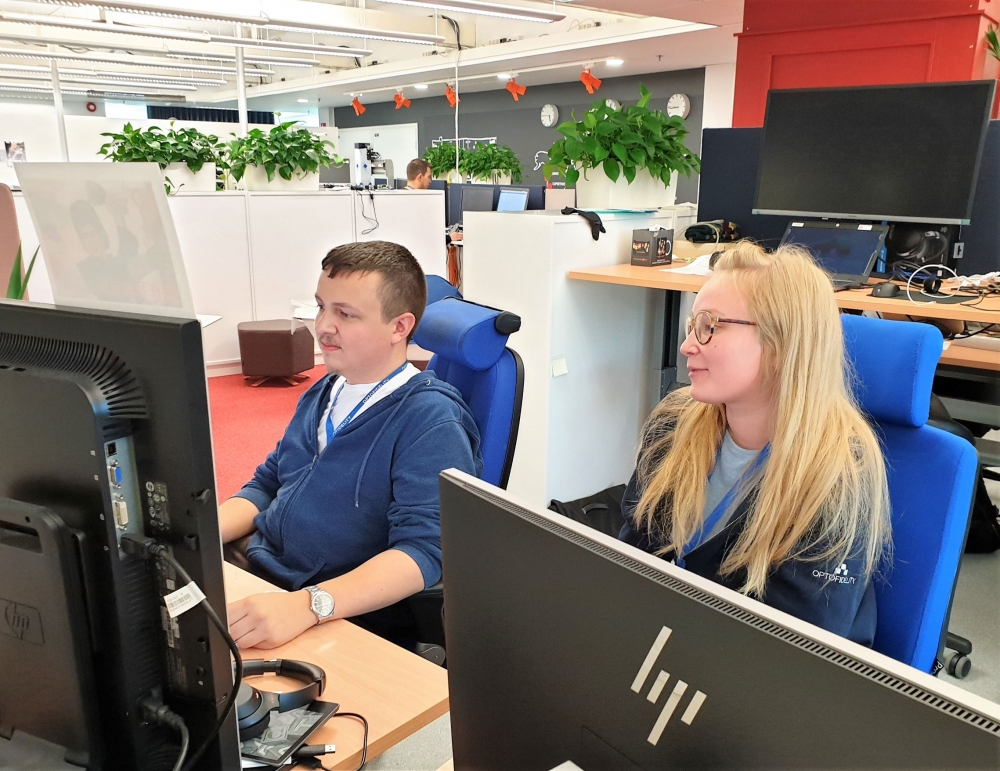 " What really made the summer enjoyable here was my project team." – Sini
Joonas: I joined the software team straight after May Day and after most of the schoolwork at Uni had ended. I got involved in a project on my first day at OptoFidelity and got quite challenging, intense and most importantly interesting tasks straight away. Despite being quite busy with the project, I had time to finish all the schoolwork and exams I had left. The company was very flexible with work time if I had some personal things to do.

The work itself proved to be as challenging as I thought it would be. I was able to develop my know-how and skills a lot and I was learning new things daily. Help and support were always provided when I asked them.

Overall the summer went well for me and I'm continuing working at OptoFidelity as a part-timer.

Ismo and Olli-Pekka, you joined our troops as Mechanical Trainees, let us hear about your summer!

Ismo: At first, I was quite nervous about my competence since the company was known for their hi-tech products and solutions. Fortunately, my colleagues and working environment were very supporting. This helped me feel I fit in quite soon after arriving to "the house".

Some tasks were harder and some not that hard, but nevertheless no job was left undone, either by me or with some help that others were eager to offer when needed. Tasks varied a lot and it was quite refreshing since there were no two identical days. I got to design components, use my problem-solving skills, try to fix mistakes or sudden unexpected situations by redesigning, building robots and be in close interaction with the true professionals of this field of technology.

I learned a ton of new skills, improved my already existing skills and gained extreme amounts of important aspects and experience regarding robots and mechanical designing.

Summer is closing in and my everyday career is nearing to its end (for now), but I will definitely be directing my interest to OptoFidelity in the future times also, in a way or another.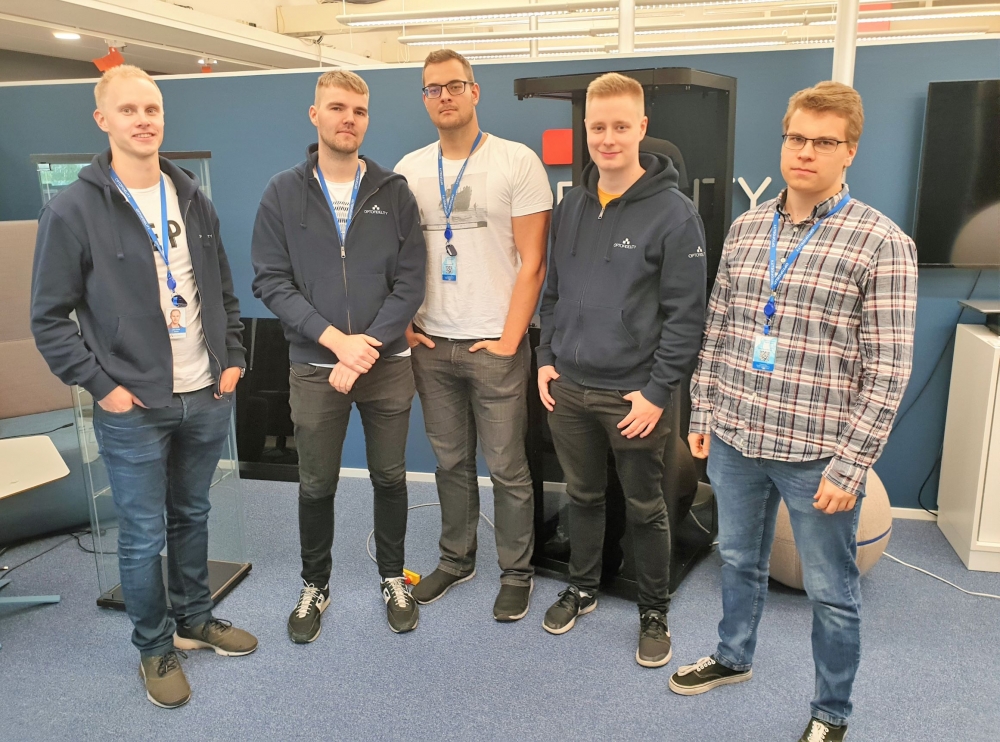 Summer Trainees: Olli-Pekka, Juho, Ismo, Markus and Joonas.
Olli-Pekka: My main tool was SolidWorks 3D modeling program. I had a chance to do different kinds interesting assembly and design tasks in various projects over the summer trainee period.

My first task was move big robot cell model to product data management (PDM) and fill the item data of the parts. That way I familiarized myself with the different kinds of systems Opto is using. I was also one of the assemblers of the cell and had chance to do one-week robot bring up trip in Europe with two coworkers. The client was world-famous technology company and the trip was very interesting and valuable experience for me.

After the bring-up trip, I was assigned to be mechanical designer of the interesting project where we designed test robot cell for home appliance devices' touch screens. The client of this project is one of the world's biggest consumer electronics manufacturers.

During the project I had to push my designer skill limit's and I gained lots of good experience about mechanical design and working as a part of the project team. For example, my sheet metal and manufacturing drawing knowledge is much better than before my trainee period.

What I like in OptoFidelity and my work is the creative atmosphere and the possibility to design your own looking products and solutions. I enjoy designing 3D printed parts that are manufactured with high quality powder bed printers.

Team spirit in mechatronics team was very good and I could always found help when needed. I continued my contract after the summer trainee period and currently we are thinking about suitable subject for my master thesis.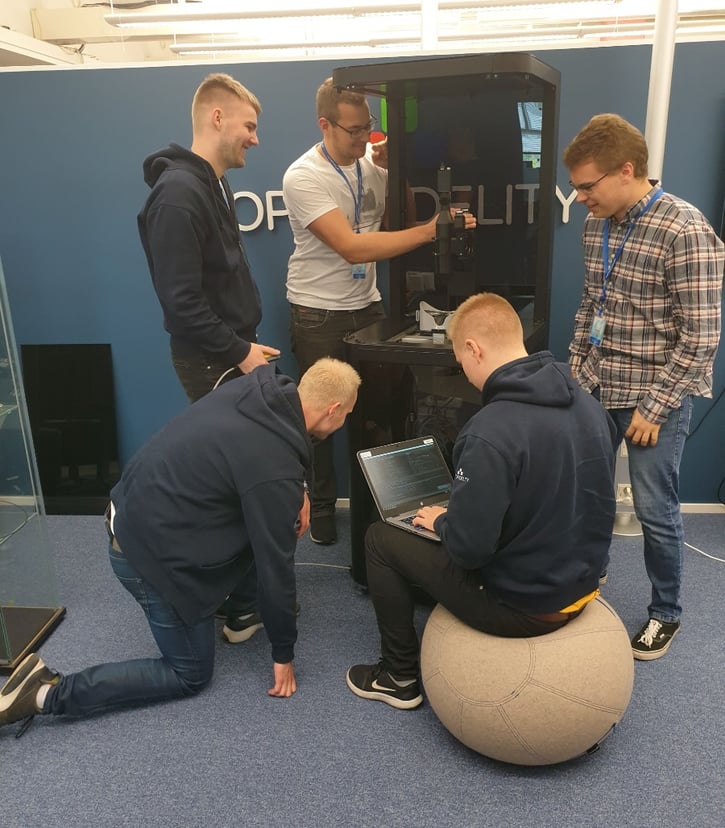 "Team spirit in mechatronics team was very good and I could always found help when needed. "- Olli-Pekka
Juho, you were working in Metrology team. What did you get to do?

I am a soon to be graduating student form the University of Tampere. My study background consists of subjects related to production automation such as robotics, machine vision and programming.

During the summer I worked as a part of the GoldenEye team, which develops head mounted device image quality test systems. Personally, what I appreciated the most was getting a chance to be a part of a software development project, improving my programming skills and getting responsibility. Good example of the latter was that I was offered a chance to travel to China to work as an on-site support for four weeks.

OptoFidelity is a company which employs people from multiple different fields and skill sets. I can warmly recommend applying for OptoFidelity whether you are just starting your studies or have already graduated. – Juho

Thank you, Sini, Joonas, Ismo, Olli-Pekka, Markus and Juho for your output during the summer. We are glad that you decided to continue your OptoJourney!

If you want to join our troops as a Trainee – Follow us in Facebook, Linkedin or Instagram and you will know about our open career opportunities.