– do you know what your customers thinks about your QoS?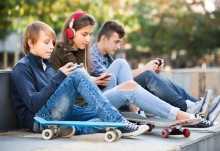 Quality and performance of mobile networks is a permanent topic. Numerous sites, tools and technologies – indeed, an entire industry – exist for monitoring this. They verify coverage, speed and the differences of the phones. Companies like Gartner and IHS Markit (Rootmetrics) have invested for years in testing. The common categories for network performance testing are reliability of the calls and text messages, and reliability and speed of the data connection.
Video services business impact
Because of the price erosion of the services, voice, text and data services have become a commodity. As this means very little possibilities of differentiation and better profits to telecoms, an increasing number of telecoms are seeking alternative revenue sources. According to various sources (www.statista.com, www.wired.com, www.mckinsey.com, www.gartner.com ), the usage of video services is already very common in some countries, and rising all the time. Common services that include video are streaming video and conversational video. Naturally, these include social media and video services for consumers, as well as business-critical B2B services. Large numbers of people are already using mobile as their primary channel when following Voice of xx auditions, sharing live videos in Facebook, using video with WeChat, WhatsUp and Skype for personal calls and so on.
Finland is one of the leading countries when it comes to data usage and video services in cellular networks. One of the leading operators, Elisa Plc, just announced their annual report and said that their excellent financial performance has a lot to do with video services. According to **Tefficient industry analysis 4 2017 mobile data usage and revenue per operator Q3 2017, Elisa Plc belongs to the top five telcos in Europe when it comes to data traffic. Same report clearly shows the leading position of Finland in data usage. All major three telecom operators, Elisa, DNA and Telia are in top 5 globally, DNA being number one.
As it is, companies have started to utilize video in their operations globally on a grand scale. And corporate B2B services have high-performance criteria for their services. Online meeting tools, remote support with video and more. The performance of video services, streaming as well as conversational, has become a business issue. Interestingly, there are not as many professional tools for gathering reliable data as one might expect. Of course, you can measure the speed and make some estimations on how the video experience is affected. But that is not going to suffice in the video era of mobile networks.
Drivetest solution and data
We at OptoFidelity believe that quality and performance has to be measured end to end. That is why we introduced a new testing tool for the field testing of video performance. Said tool is a drive testing solution for video QoS. You can read more about this solution at our website and watch the following video:
We have already delivered this solution successfully to a telecom operator with more than 50M subscribers. The same technology is also used by several major mobile HW giants for their internal development.
As our next step, we will introduce this solution to the market by several ways. Currently, we are collecting data from Finland with three different telecom SIM cards. We aim to publish a report on our findings. We are going to present the demo and some sample data as well at @MWC2018 in our booth. As a third action, we will challenge partner companies to collaborate with us with the testing solution and data.
It would be nice to get your comments and feedback related to this solution and our data. And please visit us in Barcelona@MWC, in case you are interested to see our demo and some sample data. Our booth number is 5D40.
*https://www.wired.com/insights/2013/04/the-colliding-worlds-of-video-providers-and-mobile-networks-2/
**http://media.tefficient.com/2017/12/tefficient-industry-analysis-4-2017-mobile-data-usage-and-revenue-Q3-2017-per-operator-21-Dec-rev-B.pdf