When you buy the new improved WatchDog User Interface Performance Test System before the end of the year 2014, you can get the SPA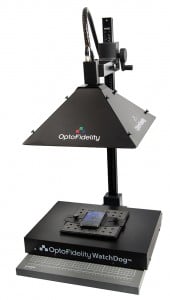 Scroll Performance Analyzer and Drawing Latency, "Pen-to-Ink" options for half price with the basic system. This offer applies to only new offer requests received after September 22nd, and is valid until the end of 2014.
OptoFidelity WatchDog is an Automatic Test System for User Interface Performance Measurements. OptoFidelity WatchDog is designed to measure key elements of UI performance – speed, latency and response times of the device.
With OptoFidelity WatchDog you can:
Automate your testing and save time
Improve your customer's user experience by measuring user interface latency and response times.
Automate your functionality testing, ease the workload of test personnel and minimize human errors in the R&D phase.
Collect and analyze numeric data from the user interface of your own product or competitors' devices.
Capture what we see after our interaction with devices.
With this campaign offer you can cost effectively add two measurement options to the basic system, and broaden the usability and amount of information the WatchDog system provides.
Option 1: SPA Scroll Performance Analyzer
When the amount of scrolling and zooming required in the device's user interface has increased due to different applications, the smoothness of these operations helps manufacturers to evaluate and improve the end-user's experience with the device. OptoFidelity SPA (Scroll Performance Analyzer) is a camera-based non-intrusive tool for measuring the user interface animation smoothness directly from the display.
Option 2: Drawing Latency
When the use of graphic and writing applications on touch-enabled devices is increasing, information about drawing latency can help the device manufacturer to improve the drawing experience for the end-user. The drawing latency option for the WatchDog measures the end-to-end latency from touch to display update.
OptoFidelity Drawing Latency on YouTube:
Would you like a price request or more information?
OptoFidelity WatchDog Product Page
OptoFidelity WatchDog on YouTube
Contact sales"@"optofidelity.com. Include the identifier "WD Fall 2014" in your e-mail subject line.