OptoFidelity's test experts continued our case study measurement report series with lip sync measurement of new iPhone generation the 4.7" iPhone 6 and 5.5" iPhone 6 Plus. OptoFidelity tested the new iPhones about the video playback performance and audio-video synchronization by OptoFidelity Video Multimeter. Video Multimeter is easy to use, non-intrusive solution for measuring video playback performance.
Is there a difference in lip sync between two iPhone models?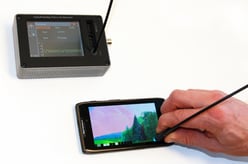 iPhone 6 and iPhone 6 Plus performed well on video playback performance but there was a difference on audio-video synchronization. The iPhone 6 has been found that there was a noticeable audio latency on both local video APP and YouTube APP. iPhone 6 was a good device to process video, however, it has weak performance on the audio-video synchronization. Also, both iPhone 6 and iPhone 6 Plus were also having similar result in audio-video synchronization performance
Need more information?
Contact our sales on sales"@"optofidelity.com