Dear partner,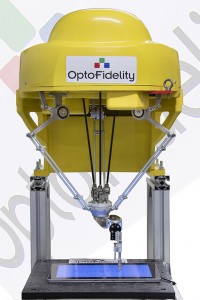 We welcome you warmly to meet your OptoFidelity Test Robotics team in MCW2016 in Barcelona, 22.-25.2.. Meet us in our booth in Hall 5, stand 5C43.
We are demonstrating our newest of the new in test robotics solutions. Test robotics are needed more and more during the lifecycle of smart devices. Smart phones, tablets, touch pc´s, wearables and more. From innovation to development, production and customer care.
Please meet our team and discuss about the future needs in your business. We are interested to hear your challenges for test robotics: research& innovation, product development, manufacturing or customer case. We are as well presenting our new test solutions for touch panel testing, handwriting, force testing and calibration for production, and much more.
OptoFidelity, rewriting the future of test robotics
Your contact person for the meetings:
Ilmo Lounasmaa, Vice President, Test Robotics. Ilmo.lounasmaa(at)optofidelity.com , +358407447599