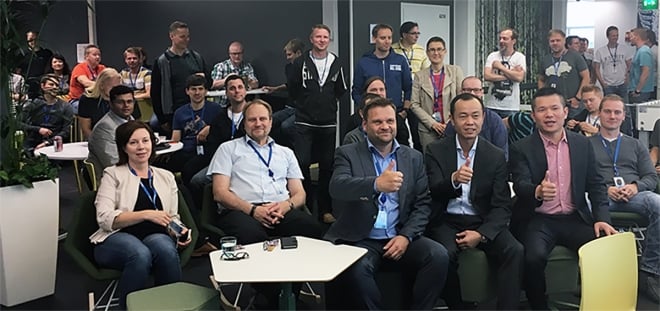 Changyuan Group Ltd ("Changyuan") has acquired 100% of OptoFidelity Oy ("OptoFidelity") bringing together a unique combination of test & measurement solutions and capabilities available to customers worldwide. With Changyuan and OptoFidelity joining forces, customers will also enjoy many complementary benefits given Changyuan's strong presence in Asia and Optofidelity respectively in Europe and in the US.
OptoFidelity operations will continue with larger resources
OptoFidelity will continue to operate in the same way as before. Company's Business ID, brand, CEO & management team, headquarter in Tampere, Finland and offices in Oulu, Finland as well as the subsidiaries in Silicon Valley, CA, Redmond WA and Shenzhen, China will stay as they are. But in the future OptoFidelity will have more own resources, support and capacity to deliver test technology in larger scale than before with these new scalable engineering and mass production & replication resources.
"This partnership will give us more resources and capacity to deliver our test technology to our global customers worldwide. Becoming part of the Changyuan Group Ltd allows us to serve the smart device industry in larger scale than we have ever done before. I am excited about combining OptoFidelity's software & measurement technology with Changyuan's scalable engineering and mass production resources and I am also thrilled about productizing some of our most advanced R&D testers for manufacturing test applications. We are fully committed to perform our obligations and to serve our customers and partners even better than before." says Mr Pertti Aimonen, Chief Executive Officer, OptoFidelity Oy.
Further information:
Pertti Aimonen, Chief Executive Officer, OptoFidelity Oy. Email: pertti.aimonen@optofidelity.com Tel: +358 40 7749259 (available week 35 UTC - 7 h)
Antti Sivula, Chairman of the Board, Email: antti.sivula@optofidelity.com Tel: +358 40 843 5839
Erbing Lu, Chief Executive Officer Changyuan Group Ltd. Email: luerbing@cyg.com Tel: +86 135-0285-2066
About Changyuan Group Ltd
Changyuan Group Ltd is a high-tech enterprise set up by the Chinese Academy of Sciences in 1986, specializing in R&D, manufacturing and service of EV-related materials, intelligent plant equipment and solutions, smart grid equipment. The company is a global partner for several industry-leading companies. The company headquartered is in Shenzhen, China See: www.CYG.com
About OptoFidelity
OptoFidelity Oy is driven by a passion to innovate and design test and production solutions for mobile devices, sensors and electronics used in smart devices. The company is a global partner for several industry-leading companies. The company is headquartered in Tampere, Finland See: www.optofidelity.com