OptoFidelity has launched a new version of the Touch Panel Performance Test System. The new system version includes several new test cases and features, which can be upgraded to previous versions or are available for a new system. New features increase the speed of the automated testing process and improve the safety and usability of the system for a tester. Thanks to the new system version, overall testing and quality control saves can be gained and time-to-market benefits boosted.
The new version and other customer specific features and services solidify the essence of the TPPT system, as a modular, scalable and cost-effective solution for end-to-end testing and product quality control.
New Test Cases
The TPPT System holds several new test cases, for example, measuring sensor coordinates when the finger is stationery on the touch panel surface, tap repeatability and first contact latency. At the same time, the parameters for test case configuration are more flexible and the test case executions and analysis are faster.
Multi DUT support
Test Execution of new the Touch Panel Performance Test System is tailored for multiple devices (DUT). The user can add as many devices as can be fitted into the robot work area. Both the touch panel module and device DUTs can be run in the same test session. One test session may also include multiple DUTs.
Usability
Several new features improve the testing usability and safety. Test case configuration is more flexible and the positioning tool has a validity check for plane validity and effector changer rack positioning. Optimized robot movements and gestures make test runs quicker. An improvement related to the result database increases the speed of the result storing and analyzing.
Improved graphics
Improvements in analysis reports clear the test result analysis for the system user. In particular, new, more detailed and descriptive graphics offer more and usable information. The entire analyzing process is faster.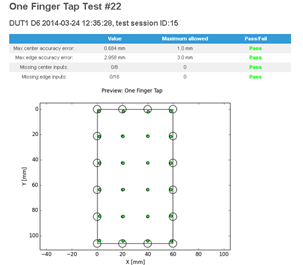 Picture 1: Example graphic of a one finger tap test
More to come
Since the Touch Panel Performance Test System is one of the core products of the OptoFidelity test automation product range, we will launch more new features for the TPPT Product family later on this year. New test cases will be available for hovering, angled touch events and stylus tests, as well as touch panel module power consumptions. The system will also support the newest curved displays and touch sensors. The Touch and Test Suite Platform will have 6-axis robot, WHCK, Windows Phone, Windows RT and iOS support. New search functions and features for test result comparisons will also be launched.
More information:
Contact: sales@optofidelity.com