OptoFidelity specializes in mobile device quality assurance and is the world's leading provider of the robot assisted user experience performance measurement systems. In 2014, OptoFidelity revenue will increase by est. 40% and exports by est. 50% through increasing volume of orders and discovery of new markets. OptoFidelity has established a strong customer base in the United States, where the company will open an office in San Francisco Bay Area, California, in 2015.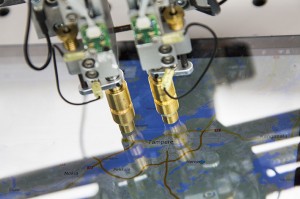 OptoFidelity's Human Simulator is the solution for advanced device and application performance analysis
OptoFidelity serves global and growing market of R&D and production testing of smartphones and tablets. OptoFidelity's customers include the world's leading device, chipset and component manufacturers, as well as large telecommunication companies such as China Mobile. OptoFidelity solutions have been designed to test the (device's) user interface from the point of view of the end user - the philosophy of the "Human Simulator". When the cameras and sensors measure the operation of the device like "senses", the fingers of the cognitive robot use the device like a human would, and the algorithms analyze the measured data like a "brain", results match closely to the perception of actual users.
Key use cases include the measurement of touch-screen accuracy as well as the measurement of the response and reaction time of the device user interface and applications. Automated testing expedites product development and enables faster time-to-market with measurably higher product quality. Accelerating life cycle of applications and shortening lifespan of the products, automated testing system saves time and increases the reliability, repeatability and reproducibility of measurements.
Backed by truly diversified skills
OptoFidelity operations have evolved from a local engineering office to a global solutions provider. According to CEO Pertti Aimonen, the design of unique products is made possible by the technical diversity and broad skill set of the engineering team.
"Our performance test systems combine measuring technology with the utilization of robotics, automation, signal processing, camera technologies as well as computer vision and software skills. By combining things in a new way, we have succeeded in creating competitive products and bringing new approaches into the world of testing."
Aiming for continued growth in the United States
OptoFidelity and markets are growing. Utilization of touch-screen technology is expanding with new vertical markets, including in-vehicle entertainment and information systems. Meanwhile the technology itself and devices keep developing and testing systems must keep up with increasingly demanding requirements.
"We want to be very close with our customers and strategic partners. Silicon Valley is today the center of product development and we aim to open a service center there in 2015," Pertti Aimonen says.
More information:
If you like to have more information about the company, products or the future plans, contact CEO Pertti Aimonen: pertti.aimonen"@"optofidelity.com
Few highlights of our products:
Watch our general user experience performance measurement teaser on YouTube.
Human Simulator test system with 6-axis robot
Video playback performance measurement with OptoFidelity Video Multimeter