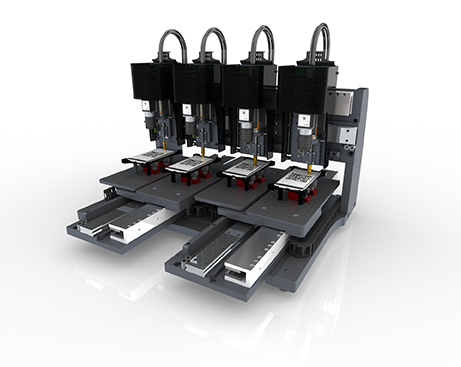 Are you interested in display inspection, or adapterless smart phone functional testing? Come to meet us in Productronica, Munich to see the latest in smart device testing. We are also presenting the fastest and most accurate testing platform on the market, OptoFidelity GoldenMov.
More than 20 million smart phones will be tested with OptoFidelityTM Fusion already in 2018. OptoFidelity Fusion, one of the most interesting innovations in smart phone testing was introduced in MWC 2017. Increasing deliveries to our customers have proofed its uniqueness. Come and see how our adapterless testing solution can improve your testing process and increase the quality of test process significantly.
New display technologies will create new user experiences, but as well new testing challenges. We are introducing OptoFidelityTM GoldenEye test solution for curved and/or flexible displays with automatic positioning. Testing of display quality & integrated sensors in the same test station is now possible. This is something, you must see, in case you work with future display technologies.
We are also presenting a demo that presents a New level of speed and accuracy for Force Calibration. That is a combination of our OptoFidelityTM GoldenMov robot platform with OptoFidelityTM OptoMotion driver technology and OptoFidelityTM Touch and Test software platform. World's fastest high capacity touch tester for production testing with optical alignment and exceptional force accuracy. At its best in force calibration. This technology can serve you also in other test cases, where high accuracy & capacity is needed.
Finally our unique OptoFidelityTM VR Multimeter will be at show. VR Multimeter is measuring the motion to photon latencies in AR/VR solutions. It is as well a showcase of our work in AR/VR field, where we have been working for 3 years.
We would be really interested to hear your testing challenges and discuss how we can help you. Whether you are a technology or a component provider, in automotive industry or a smart device ODM. For pre-bookings please be in touch with sales@optofidelity.com or your direct contact person.
And please save our stand number 151 in hall A1 to your meeting calendar.
Best regards - OptoFidelity – measuring the smart future.