Virtual reality and groovy devices are billowing the markets like a tsunami, but let's face it - there is still a lot to do for creating a great VR user experience. Poor device performance affects the quality of the VR experience. Especially bad latency, specifically motion-to-photon, leads to poor virtual reality experience and even disorientation, motion sickness and nausea.
At Mobile World Congress 2017 in Barcelona, OptoFidelity will launch worldwide the first measurement system for Virtual and Augmented Reality performance measurements - The OptoFidelityTM VR Multimeter HMD. During MWC 2017 OptoFidelity will present the system at Stand 5C43 in Hall 5.
Based on OptoFidelity's proven VR Multimeter technology, OptoFidelityTM VR Multimeter HMD is capable of testing any VR or AR see-through Head Mounted Devices. The system helps the device manufacturer optimise the best VR experience for the user by measuring the most important components of a great VR experience: temporal performance, latencies (specifically motion-to-photon, also known as MTP or M2P), low motion blur characteristics on a display, update speed and frame update speed.
OptoFidelity VR Multimeter
Even though virtual reality has been a hot topic for a couple of years, and a large number of devices are already being sold in the market, no test systems for VR performance measurement exist yet.
The OptoFidelity™ VR Multimeter HMD is an end-to-end, non-intrusive measurement solution for acquiring precise and objective data from any multimedia device. The VR Multimeter HMD can objectively analyse a variety of VR performance metrics, such as motion-to-photon and display persistence, and even audio-to-video synchronisation.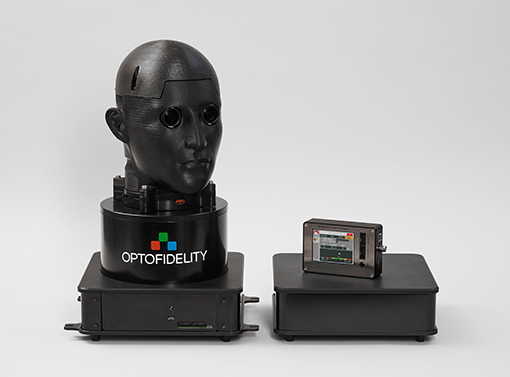 Example of OptoFidelity VR Multimeter HMD test system setup
More information:
OptoFidelity's CTO Kimmo Jokinen, Kimmo.jokinen@optofidelity.com, tel: + 358 400 599 849
VR Multimeter product information:
Futuremark's press release about partnering with OptoFidelity in VR latency test.