OptoFidelity proudly introduces its new, compact test system for secondhand smartphone functional testing and grading called OptoFidelity SCORE.
The easy-to-use test system complements the range of our existing smartphone testing solutions as an automated grading system for cosmetic defects and display quality. It utilizes the same technology platform as OptoFidelity FUSION, an all-in-one functional tester for re-used phones. The system can be used either manually, or as an integrated solution within a fully automated processing line with various types of DUT feeder robotics. No phone specific jigs are needed, but the system can be used for testing all the commercially available smartphone models with zero setup downtime.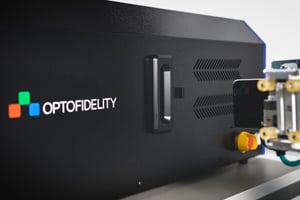 Picture 1: OptoFidelity SCORE
More information about OptoFidelity SCORE including a system datasheet and a video is available here, or, you can ask us to contact you by quickly filling in Contact Form.