OptoFidelity will be exhibiting in Display Week 2022 on 10-12 May 2022 at the San Jose McEnery Convention Center in San Francisco, CA, USA. We are showcasing our AR/VR/XR measurement technologies and products. Visit us at booth 841!
At Display Week, OptoFidelity will showcase two of its most exciting products:
HMD IQ is a complete station designed for testing Head-Mounted Displays. The tested device may be a full near-eye display system including an image source (display), projection optics (lens) and waveguide. With HMD IQ it is possible to test the image quality of various types of augmented reality and virtual reality head-mounted devices including helmets.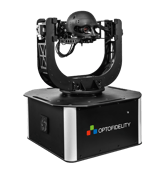 BUDDY is a performance tester for VR/AR/MR HMDs. BUDDY is a comprehensive solution for virtual, augmented and mixed reality (VR, AR, MR) head-mounted display (HMD) performance testing and calibration in both R&D and manufacturing lines. BUDDY comes with an integrated vision module and 3 degrees of freedom, which ensures the best HMD performance, including motion-to-photon latency, content stability and pose-drifting.
Join us at this year's Display Week to see both of these products live in a demo!
SID Display Week details:
Show dates: Tuesday, 10 May 2022 - Thursday, 12 May 2022 Location: San Jose McEnery Convention Center, 150 W San Carlos St, San Jose, CA 95113, United States
Booth: 841