OptoFidelity introduces an new testing solution for HMD testing (Head mounted device testing) Intense development of virtual and mixed reality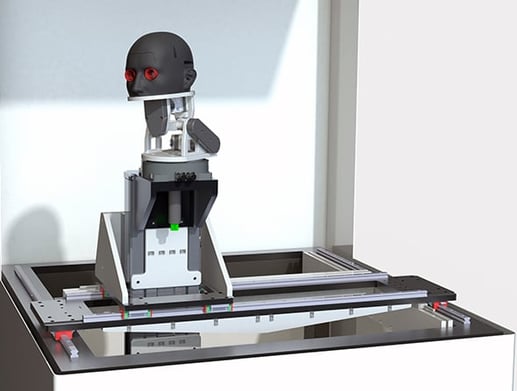 devices & software, including tethered and untethered HMD's (head mounted device), 6DOF (degree of freedom) outside-in and inside-out tracking systems and controllers, shared virtual worlds and presence requires comprehensive test and QA solution. Now OptoFidelity is introducing a new test solution for virtual and mixed reality devices - OptoFidelity's VR Multimeter 6DOF (patent pending).
OptoFidelityTM VR Multimeter 6DOF is a comprehensive performance tester platform for testing various Virtual, Augmented and Mixed Reality (VR, AR, MR) presence factors. It utilizes OptoFidelity's proprietary robotics platform, which enables unbeatable accuracy, repeatability and position based triggering. The platform is highly adaptive and the size and features can be tailored according to customer needs.
The optical metrology part incorporates novel VR Multimeter, which includes patented method for triggering optical flow camera, as well as HMD (head mounted device) adaptation optics, which enables straightforward measurements with virtually any existing HMD's. Thanks to high-speed display sensing feature, all present and future display and projector types can be supported.
The number of synchronized robotic axis can alter from 6 to 14, thus enabling the human-like testing of both HMD's and Controllers. The size of the total system can be tailored per customer needs – from table-size to full room-scale systems, and even multiplayer systems are possible to build.
OptoFidelity's VR Multimeter 6DOF is available for deliveries starting Q4/2017. For M2P measurements with VR headsets, please have a look on our VR Multimeter page and our blog related to VR measurements with tag VR.
To demonstrate, what this 6DOF means for HMD testing in action, we created a teaser video. You can watch the video at YouTube here.
Interested?
More information and datasheet inquiries from sales@optofidelity.com