We were happy to notice that OptoFidelity iPhone measurement results report got a wide publicity globally and raised an interesting and active conversation.
We have been developing our test automation systems since 2008 and we today work with the world's leading R&D companies and touch panel device manufacturers. As a nonaligned, privately owned company we are executing our own case studies and benchmarking for many kind of devices and brands to raise awareness of our test automation options. At the same time we want to point out the relevance of testing for the end product quality. This time our measurements were focused on iPhone and that got a lot of publicity.
Some links related to our test report:
http://blog.gsmarena.com/tests-show-iphone-5s-and-5c-touchscreens-are-inaccurate/
http://news.cnet.com/8301-1035_3-57609329-94/samsung-galaxy-s3-outpaces-iphone-5s-5c-in-touch-accuracy/
http://www.digitimes.com.tw/TW/DT/N/SHWNWS.ASP?CAT1=20&CNLID=1&CAT=60&ID=0000355248_J7D1T8L15KZJRV7QK16OG&CT=C#ixzz2izaVGB3o
http://appleinsider.com/articles/13/06/19/npd-display-report
OptoFidelity FAQ
Since there has been a lot of speculation regarding the role of robot testing, our testing method and our preference, we composed some frequently asked questions on our testing fundamentals. We would also like to point out, that we are not commenting the perspective compensation feature of Apple Products. This is information that only a manufacturer can comment.
Question: Why did you test Samsung S3 instead of S4?
We got lots of questions why did we use Samsung S3 instead of new Samsung S4. Our original intent was to focus on iPhones instead of comparison between different manufacturers, but the most interesting thing happened to be the comparison itself. Now we ran same tests with Samsung S4 to show that the results are almost even and in our measurements the problem in the touch accuracy involves more iPhones.
Below are presented Samsung S3 and S4 measurement results. All in all, the touch accuracy of Samsung Galaxy S4 is good or even better than that of Samsung Galaxy S3. There are only few fails near the fringe. The results of both models are very consistent.
Image1: Measurement results of Samsung S3 Image2: Measurement results of Samsung S4
Question: Why robots should test mobile phones or devices that are used by humans?
Basic qualifications for testing are repeatability and comparability. Measurements need to be done exactly in the same way and at the same conditions multiple times. Otherwise the value of the results is worthless. A robot which uses a device exactly the same way as an end user does can carry out high quality, comparable and repeatable tests at every time since the possibility of human error is minimized.
Question: How can you say this, I don't have typing issue with my iPhone 5?
In our measurement report the red color in test indicates that the touch accuracy error for current point is more than 1 millimeter. The size of each letter is much bigger than one millimeter. Typing errors occur when user touches close to the edge of a button.
Question: Is this just another paid study?
OptoFidelity is a privately owned and nonaligned company. You can get an official test report or a complete test system from us but we never modify our test results. We hope that our test results will help device manufacturers to improve the performance of their devices. We can test the touch performance of smartphones from all manufacturers and even of touch controller chips.
The tests of our iPhone case study were executed just after iPhone 5C and iPhone 5S were released. That is why these phones were selected for our case study.
If you watch our other test demo videos on YouTube you can see that we have done demo testing and test videos for many kinds of devices and brands.
Question: Why barrel shaped dummies instead of actual finger shape? Contact face of fingers is slightly off to the point where user actually intends to touch. Intelligent designed operating systems correct for this, which makes your tests completely meaningless for real world usage.
If this would be true, you should see a constant offset to one direction only. We are also able to analyze the constant offset from results. In these measurements, there was no constant offset to any direction. We selected artificial fingers that give the same kind of input to touch screen as a normal human finger. The selection is based on actual data gathered from touch screen modules when touching them with human fingers, artificial fingers and styluses.
Question: Your test results do not correlate with real world results, iPhone compensates this.
We are not commenting any alleged perspective compensation features of Apple Products. The compensation is a feature that only manufacturer can comment and substantiate.
But you can test the correlation of our test results to a real world results yourself with your own iPhone by performing these simple steps. Please remember that our tests were done with iPhone 5S and iPhone 5C.
1. Start to type a text message or a note so you can bring up virtual keyboard.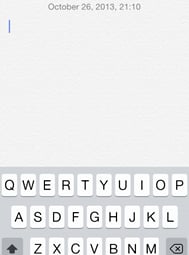 Image 1: iPhone virtual keyboard screenshot
2. Take a screenshot of your virtual keyboard by clicking the power button and the home button.
3. Download a drawing application which supports importing images, for example DoodleBuddy or Paint.
4. Import your virtual keyboard screenshot to drawing application, and tap the center of all virtual keys in screenshot.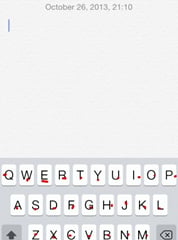 Image 2: iPhone virtual keyboard with added touch points
5. You can see how pressing the center of letters O, P and Q creates the same kind of offset that we reported in our widely spread and commented report. The same iPhone was used for this example as was used in our previous measurements.
6. Comparison to OptoFidelity case study report
Taps performed by using human finger and taps performed by our automated test system seems to create same kind of result. Now you are able to test this yourself.

Image 3: Image from our accuracy report